applications include
extraction socket grafting
ridge and sinus augmentation
grafting for implant placement
infrabony periodontal defects
MinerOss® X Particulate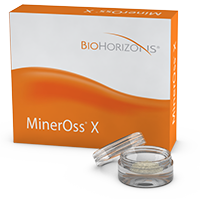 MinerOss X Particulate is available in either cancellous or cortical form. The complex trabecular architecture and natural consistency allow for ideal bone formation at the defect site.
MinerOss® X Collagen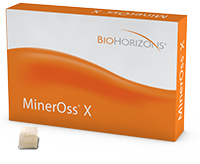 MinerOss X Collagen is a combination of 95% anorganic cancellous bovine bone and approximately 5% bovine collagen. This block form allows for convenience during placement and an ideal solution for many applications.
MinerOss® X Syringe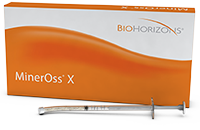 MinerOss X Syringe is cancellous particulate pre-loaded into a delivery syringe to assist with optimal placement at the defect site.